Music therapy is a professional discipline that utilises planned and controlled music to achieve therapeutic goals and aims. Music therapy is the functional use of musical interaction to enhance and develop socialisation, communication, self-expression, and sensory-motor skills.
Music therapy sessions are "facilitated by the music therapist who draws from a variety of therapeutic processes which reflect their knowledge and experience in areas including psychology, physiology, social/behavioural sciences and human development." Australian Music Therapy Association website, 2013
Music therapy can provide benefits for children and adolescents including those with intellectual, cognitive, physical, emotional and learning disabilities. Music therapy programs can be used with a range of children including those with developmental disorders and disabilities such as Autism Spectrum Disorder, Asperger's Syndrome, Down Syndrome, Rett Syndrome, Angelman Syndrome, Cerebral Palsy, Spina Bifida, and Epilepsy.
Qualifications
Registered Music Therapists (RMTs) in Australia must complete a post-graduate Masters qualification in Music Therapy and additionally complete 640 clinical hours with professional supervision to obtain registration.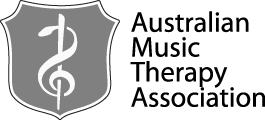 All RMTs are registered with the Australian Music Therapy Association (AMTA) and are bound by the Code of Professional Conduct and Ethics of the AMTA.